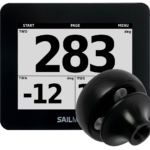 MAX + Ultrasonic Portable Wind Sensor
€1,348.00 inc VAT
By connecting the BLE wind sensor, you can get instant apparent & true wind readings.
Availability: in stock
What's in the box?
Technical Specifications
Shipping details
Bluetooth, solar-powered and IPX8 pocket-sized ULTRASONIC anemometer. This self-powered Bluetooth 4.1 ULTRASONIC windmeter can work for 29 days without charging while measuring, and an entire year in sleep mode thanks to its solar panel.
Built with ULTRASONIC sensors, it will provide you with one of the greatest accuracies we have ever achieved in an anemometer. Allowing a continuous measurement of wind speed and direction.
Check the technical specifications for further information.
Wind Speed
Range: 0 – 25 m/s
Resolution: ±0.1 m/s at 10m/s
Wind direction
Range: 0 – 360º
Resolution: ±1º
Sensors
Ultrasonic transducers (4x)
Sample rate: 1, 4, 8 Hz
Secondary sensors: Thermometer, Gyroscope, Accelerometer
(Accuracy may vary depending upon the App used, its release and the firmware version)
Power
Solar panel, internal battery, automatic power management.
Autonomy with no sunlight: in sleep mode up to 1 year, while measuring up to ~30 days.
Bluetooth
Version: 4.0 or beyond
Range: Up to 50 m (free space)
Firmware
Upgradable (Learn more)
Current version: 0.76
IP Code
IPX8 protection grade (10 meters).
Dimensions
Diameter: 70 mm
Height: 57 mm
Weight
135 grams
Easy mount
16 mm (M16x2) female thread
Your order will be processed and shipped from our office in the Netherlands (Hellingweg 9B, 2583 DZ, Den Haag). Depending on where your order is shipped to, the following approximate delivery times will apply:
– Europe: 3-5 business days*
– Outside Europe: 5-7 business days*
Worldwide shipping will be handled by UPS (Track and Trace included)
Payment by Credit Card via our webshop.
* No rights can be derived from these approximate delivery times